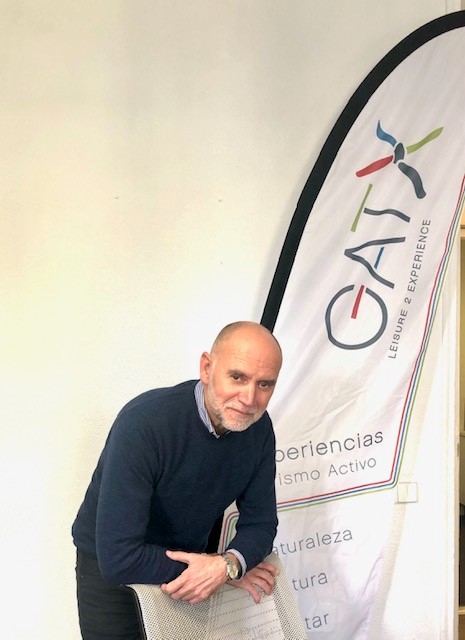 We welcome Javier Reinoso, our new GAT X project manager.
29 Nov, 2021
-
Active Tourism
,
Articles
,
Corporate
,
Cyclism
,
Experiences
,
GAT Gestión
,
Golf
,
Hotels and operations
,
Interviews
,
job
Javier arrives to lead GAT X, GAT's wholesale Active Tourism agency, specialising in experiential active leisure packages; sport, nature, multi-adventure and wellness.  The project was presented in society during the last special edition of FITUR in May of this year. During these previous months GAT X has grown and matured under the guidance of commercial director Ignacio López.
Since Monday 15th November, the new head of GAT X has been part of the team at GAT headquarters in Madrid.
J.Reinoso joined this exciting project, he did not hesitate for a second to get on Amelia Earhart's plane, the reasons… the project, the solidity of the company, the recognition of the experience and of course a little bit of madness.
With a degree in Tourism, from his new position he will contribute his extensive knowledge and extensive experience to achieve the objectives of growth and expansion of the project. At the forefront and nearby, the next milestones: the commercialisation of active leisure activities in the snow, cycling and golf sectors.
Javier is a professional specialised in the tourism sector and more specifically in the field and activity of travel agencies.
He himself tells us: "I started my career in Travelplan – Air Europa, Aivotel, Grupo AAVV Autorama, companies that trained me professionally in the sector. In 2010 I took a giant leap when I accepted the challenge of managing and creating an e-commerce company from scratch. Under the protection and within the MK Media Advertising Group, we started the first outlet in the world of motoring, which was undoubtedly 5 years that helped me to learn and get to know online sales. In 2015 I was called from Pangea to be part of this innovative project from the beginning… there I have been responsible for national product, director of the business development department, director of the MICE department and finally director of the Spain department – DMC & Incentive plans for companies".
We welcome him and wish him every success.