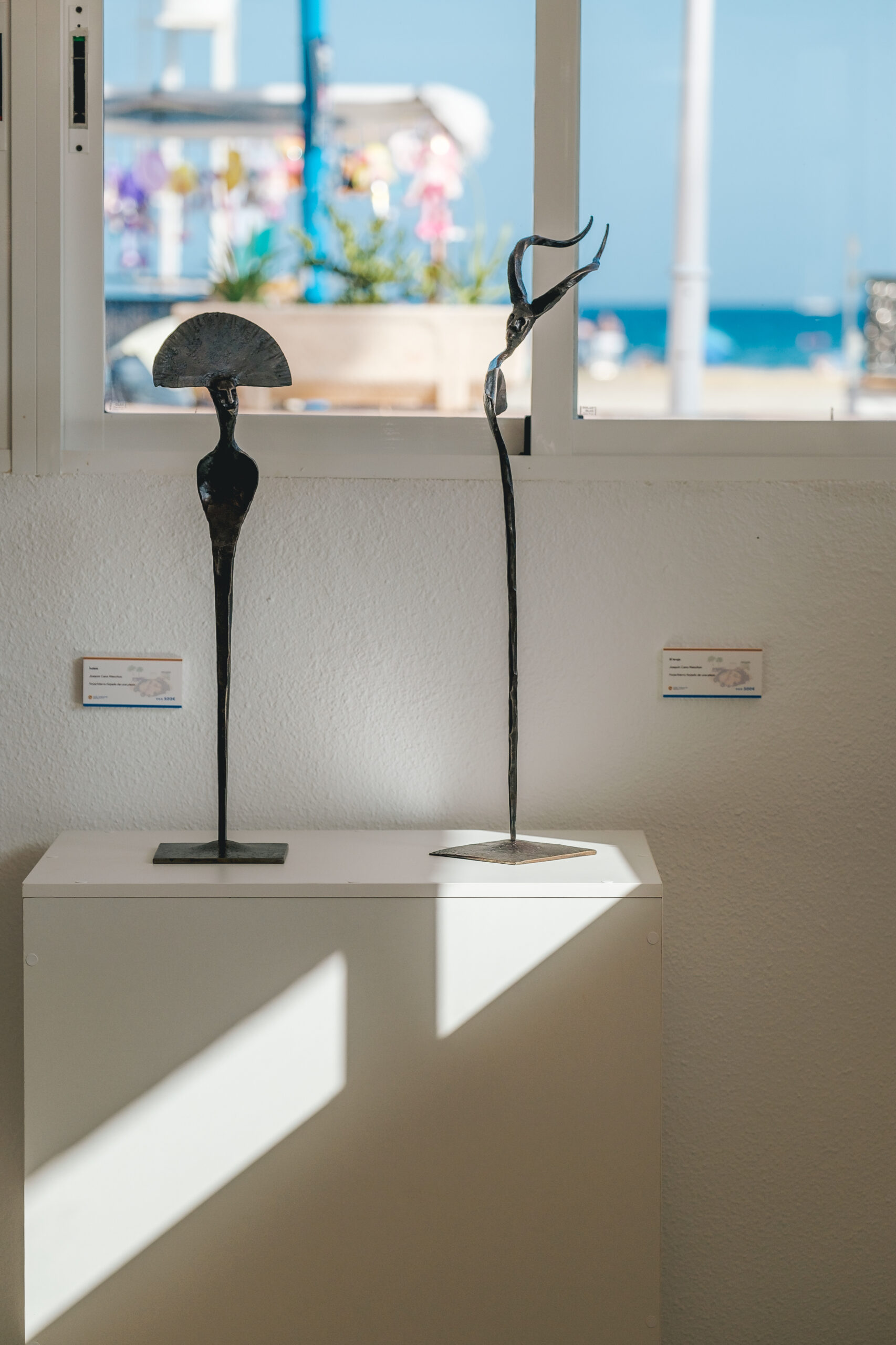 The soul of Cabo de Gata. Indalo and Brujo.
Today's interview is with Joaquín Cano Machón, winner of the interior works category in this first edition of the Cabo de Gata Art Festival. We chat with him as the exhibition is about to enter its third week open to the public.
You have been one of the participants in the competition and also winner of one of the categories. What encouraged you to participate?
"I was encouraged by the proximity to the place where I live and work, and the theme of the festival allowed me to introduce two of the sculptures from the series I am currently working on. The paintings in the Cueva de los Letreros had already caught my attention, and I had in mind the Indalo and the Brujo. When I saw an advert for the festival, I decided to take part".
How do you see the artistic scene in the area and in Almería?
"I see that there is a lot of artistic and cultural movement in the Levante area and Andalucía, and not only in the visual arts, but also in music and the performing arts. There is a large community of professional and emerging artists with a lot of potential, as well as artisans and designers who are undertaking their own projects. But I think that there are not enough initiatives on the part of the administration and other institutions to take advantage of this potential, to help us, or simply to make it a little easier for us. I must also add that, from what I often see, in this area we have neglected the historical-artistic heritage for years, when it was not thought to be important, as well as investing very little in culture and in the preservation of our essence. It is up to us to change this situation by looking towards a more committed and culturally rich future".
How do you define yourself as an artist, what messages do you want to send with your work?
"Defining myself as an artist is something that is still difficult for me, as my knowledge of metal and the blacksmith's trade is very important to me. I don't only forge sculptural pieces, a large part of my work consists of the design and manufacture of furniture, decorative pieces or architectural elements. In general I like everything I make to be utilitarian or at least have some purpose.
I believe that Art is a concept that cannot be encompassed, it is full of languages, purposes, visions and ideas. They are part of a whole and each one has its audience and its meaning. My language is the language of the material itself, I seek to materialise various underlying concepts in a final form that is suggestive and generates a need to search in myself and in the spectator".
What would you say to clients and possible visitors to the exhibition, why shouldn't they miss it? Who would you invite to see it: celebrities, politicians, actors…?
"I would tell them not to miss the opportunity to see an exhibition full of works by local artists, in such a unique setting as San José and the Cabo de Gata park, and above all I would thank them for taking an interest, supporting emerging art and participating in this festival far from the big cities and art circuits. I would encourage anyone attracted by art to go and see it, especially if they are part of the administration or the world of culture in general. They shouldn't overlook this kind of much-needed initiative".
What are you preparing now? Would you like to present it in our hotel?
"At the moment I am totally immersed in my work. Since I decided to open my workshop at the beginning of the year I haven't stopped working on different client projects. At the same time I am working on several sculptural pieces made of wrought iron. Among them are "Indalo" and "El Brujo" as part of a series in which I try to recreate idols, totems or votive offerings. To generate the idea of a magical object or of power by reinterpreting the first manifestations that, today, we call artistic but which until a few centuries ago formed part of a magical and sacred world that served a higher purpose.
Who made the knife or the sacred chalice, who shaped the amulets, the cult images or the shaman's costume? These are some of the debates I am trying to open up".
In response to your exhibition proposal, I am open to any future project that may arise, I would love to have that opportunity. Perhaps for the next edition of the Festival.
Translated with www.DeepL.com/Translator (free version)