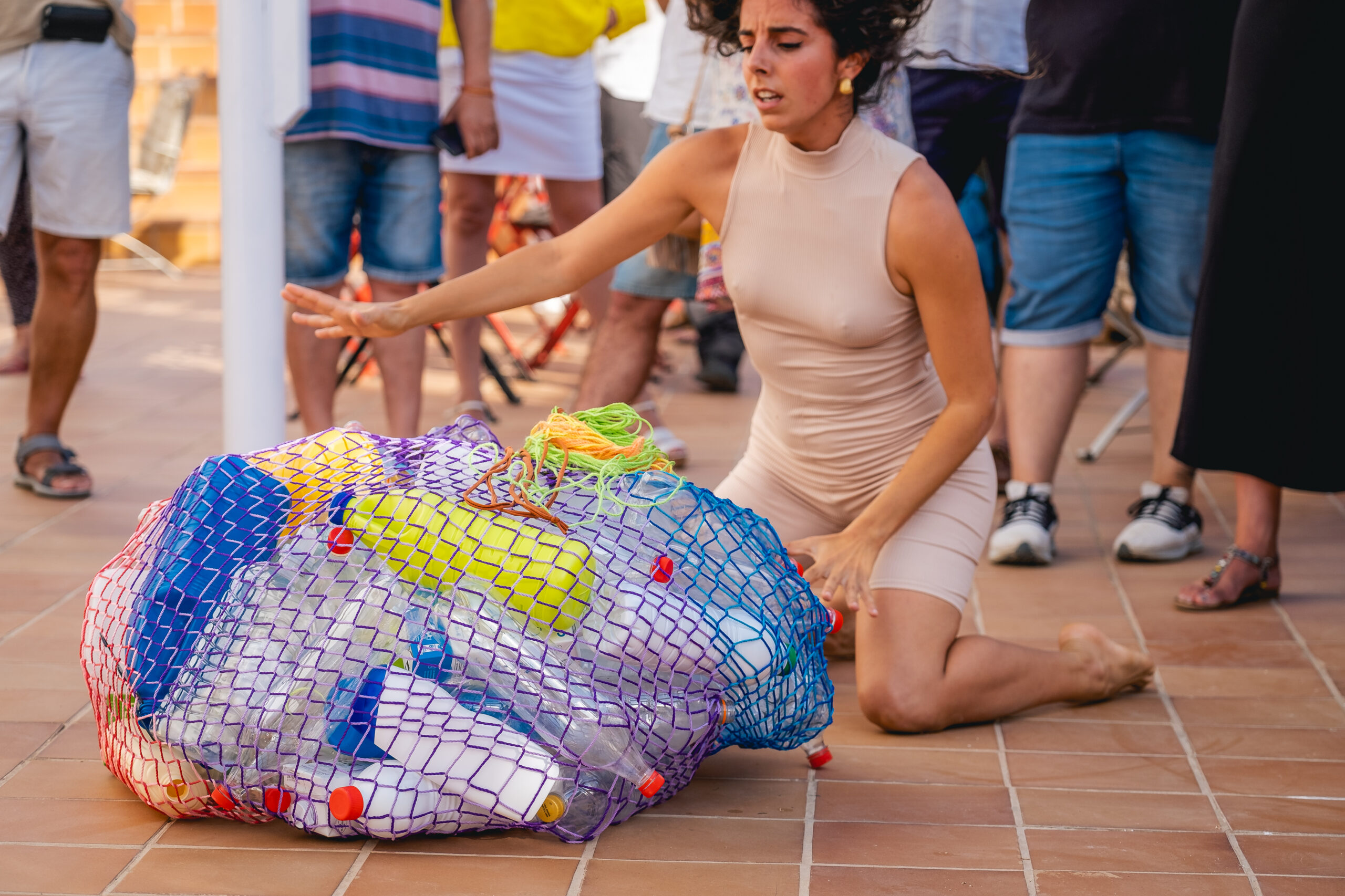 Mariah Li: the art of dancing to make a difference
Today we interview Mariah Li, the winning artist in the outdoor category at the First Cabo de Gata Arts Festival. She participated with an exciting live performance, which made us think a lot about the need for commitment and involvement in environmental care, our main treasure and asset in the national tourism sector.
The complete exhibition can now be visited by the general public at the Don Ignacio Hotel since July 7th and after the inauguration event attended by the main local political representatives. All info here: www.donignaciohotel.com
You were one of the participants in the competition and also winner of one of the categories. What encouraged you to participate?
"Mainly what encouraged me to participate was the theme of tourism and social and environmental sustainability. I consider myself a person who is very committed to our Pacha Mama, I believe that she is the womb that contains and nourishes us and we are mistreating her in a huge way.  Sometimes I set such an atrocious and strong example directly with my mother, it is as if I were hitting that woman who gave birth to me every day. It sounds extreme, but that's how it is. And as I am totally convinced that art is a very powerful tool to make things change, I didn't hesitate.
The project began to take shape in Tulum, Mexico, where the audiovisual piece "WASTE" was born, in an environment with very similar characteristics to Almería, where the Sian Ka'an Biosphere Reserve is located, the largest protected area in the Mexican Caribbean, like our Cabo de Gata, a protected natural area.
Mariah tells us what she saw when she arrived in this area of the Reserve; a small fishing village, as Tulum was once known, which has now been converted into a seaside resort with hotel and catering infrastructures that lack respect for the impressive nature of this place.
"We are sold a dream of the Mexican Caribbean with pictures of clean, paradisiacal beaches full of lush green jungles and the reality when you look a little further inland is that our form of tourism is destroying these places. Local friends there told me about a wild Tulum, a place where you could breathe paradise, but many years ago until mass tourism arrived. This encouraged me to start the project and to continue on this path, the love of nature and seeing the injustices that are committed against it, and of course art, which is my great passion".
How do you see the art scene in the area and in Almería?
"Realistically I come from Seville and I know the art scene closer to my city, and well what is happening in Andalusia and in Spain in general, but I was pleasantly surprised to arrive here and see that there is a commitment to committed art, to a more conscious and sustainable tourism, and I am very grateful for that from the bottom of my heart. In Andalusia we have a paradise on earth and an outstanding artistic heritage, I think we have to bet on ourselves with a strong belief in this and stop selling ourselves short, because there is a lot of potential here".
How do you define yourself as an artist, what messages do you want to send with your work?
"I consider myself a multidisciplinary artist, my core training is in theatre, I have a degree in Dramatic Art and specialise in physical theatre, with training in dance. But I have always had a very curious nature and I have been trained in audiovisuals, cinema, photography, even in natural therapies, and I perceive that everything adds up and that everything is useful to me when facing a creative process. I like to throw my ideas and my concerns to the public so that it reaches their hearts and for this reason I use everything from photography, to dance, installation, poetry, any expression is welcome if it communicates and serves as a means to reach the spectators. As Richard Wagner said with his theory of the Gesamtkustwerk, all the arts are contained within each other, they nourish each other, it would be a mistake to separate them. What I like most is action art or performance art because I think it works strategically well, it is short concise action and interacts with the public to make them responsible for the issues raised by the piece and in this case it is fundamental, because we are all responsible for the islands of plastics we have in the oceans and we have to take action, that's why action art".
What would you say to clients and potential visitors to the exhibition, why shouldn't they miss it? Who would you invite to see it; celebrity, politician, actor…?
"I would invite everyone who passes through Almería to visit the exhibition, of course, art moves us, moves us and makes us reflect, and if after it, being so close to the sea, you can have a good swim and contemplate the sunset. What better plan?"
What are you preparing now?
What are you preparing now?
"Now I'm very focused on my artistic career more than ever, preparing some participations in international festivals with the world of performance, I want to mount a theatre production and develop my career in the world of cultural management, which I have just finished my studies as a university expert and why not? to get into the world of cinema, I always dream of shooting a film. As you can see, multidisciplinary, as I define myself with projects of different characteristics, but with the common nexus of art, always betting on culture".
Thank you Maríah, we wish you many successes and that we can share them.