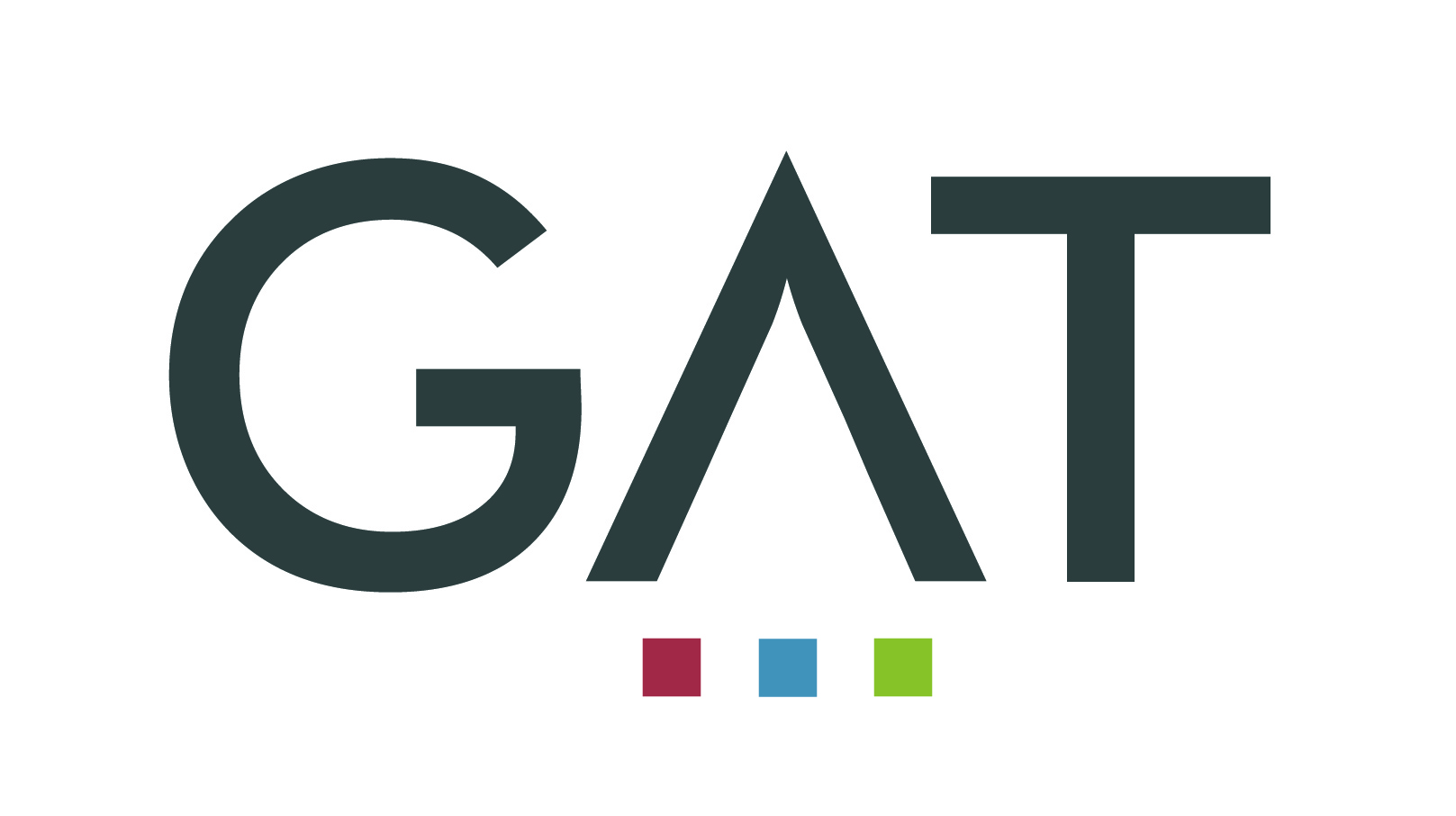 New year, new logo and much more…
GAT, our company with twelve years of experience being in the "top ten" of the ranking of independent hotel operators, closes 2021 undertaking the revision of the logo that has been the brand image for the last four years. In the words of Ramón Garayar-CEO of GAT- "The new times demand a constant effort from companies in terms of updating in all areas, a drive for innovation and change based on the same values as always, those that identify us and build our identity and characterise our way of doing and managing".
The new image , is the natural evolution of what had been the company's usual logo, retains the acronym with a modernised treatment of the lettering, promoting the expressive strength of the dark grey and maintaining the tri-colour touches that characterise the brand. With this evolution, the logo gains expressiveness, but above all legibility and attractiveness when applied to the different online and offline supports.
The implementation of the new logo has already started to become a reality in some of the GAT actions, such as the Christmas banner in the email signature footer and in the final artwork of some posters and roll-ups. It is expected that, from next week, the new version can be applied and seen on the web (www.gatgestion.com) and in the avatar of the corporate profile on LinkedIn.
GAT will be at FITUR for yet another year
The Spanish and international tourism sector have their annual appointment at the 2022 edition of Fitur, which will be held from 19 to 21 January in professional format.
GAT will be there with a completely renovated stand, which will serve as the official presentation of the new brand. A 42m2 area located in Hall 10, location F08, will host the corporate narrative and will include visual and graphic elements of our product portfolio and the success figures achieved despite the global pandemic scenario.
GAT X, the Active Tourism wholesaler belonging to GAT, will have its own presence and prominence within the stand. The GAT X corner (www.gatx.travel) will invite us to get to know the experiential offer that adds value to the accommodation offer of hotels, resorts and destinations. Golf, cycle tourism, snow and ski activities, events… a whole range of activities prepared and organised to respond to the growing market demand.
Best wishes
We close the year after a difficult few months which for GAT have been ones of consolidation and even growth. Our portfolio of assets under management now totals 16 assets. We recently added the 4* Antequera hotel in Antequera (Malaga) and the 3* Ziryab hotel in Sierra Nevada (Granada).
We open 2022 with new challenges and an ambitious expansion strategy focused on the main peninsular and island destinations that will make us add and grow.