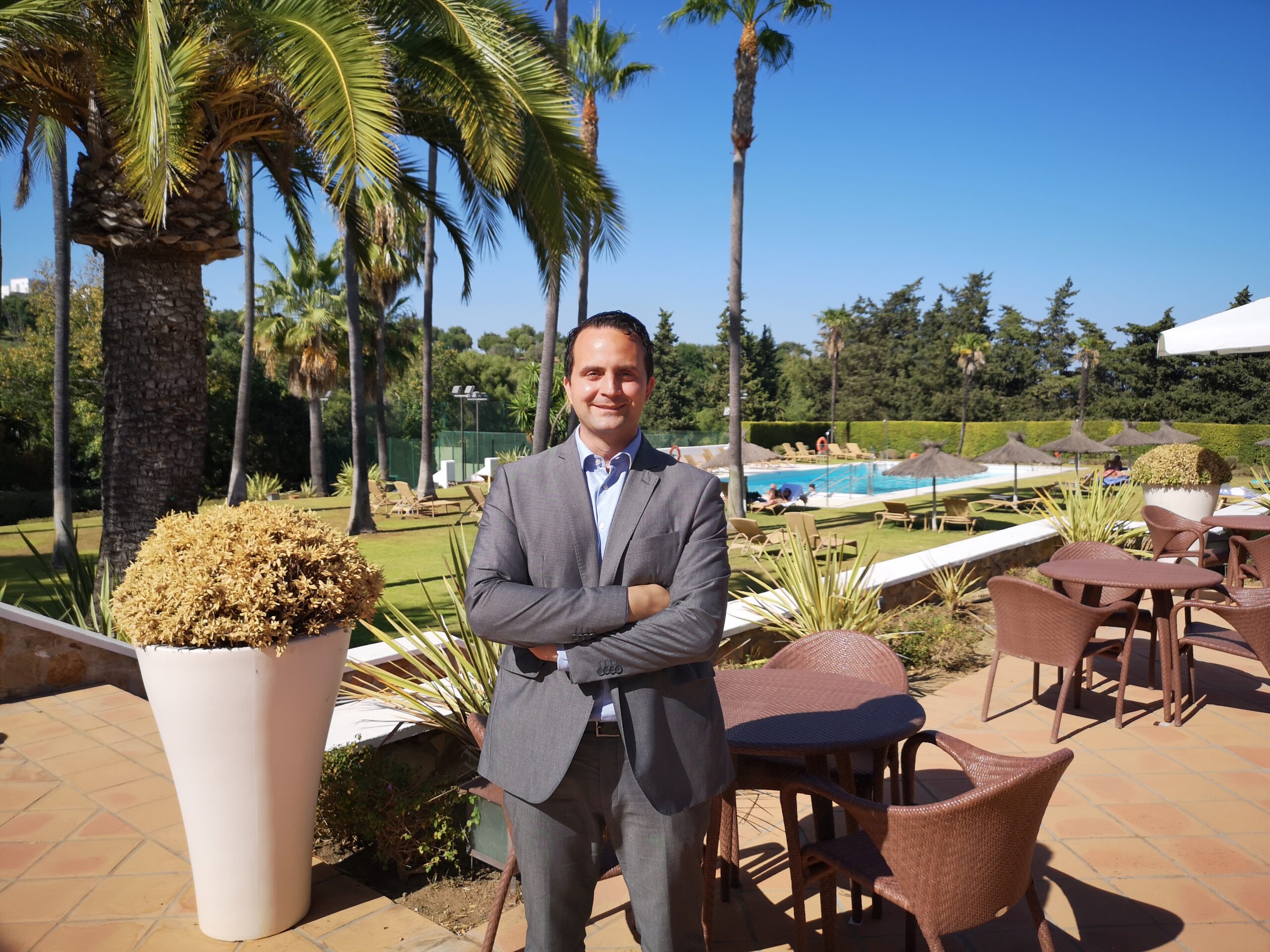 Martín Módica, Director of Encinar de Sotogrande
Martín Módica is the director of our hotel El Encinar de Sotogrande, an exclusive resort that is open all year round and whose clients, of national and international origin, seek in it and in its spacious rooms and common areas, the perfect complementary accommodation for the practice of golf, for example.
Which is the place in the resort where you spend the most time and why?
In the hotel terraces, is where we have the most beautiful views and you can see how our customers are enjoying, I take the opportunity to be in contact with customers and staff.
2. And your favorite place in the hotel?
The hotel gardens where you can brighten up your day with the green landscape and nature
3. What must a hotel have in order for a client to leave happy and content?
The attention of the staff is fundamental, a good attitude and good treatment make a client leave happy and repeat
4. What is Encinar de Sotogrande like?
It is the place in Sotogrande to relax and disconnect, having all the facilities to enjoy nature and good food.
5. What is the client like who comes to these installations?
We have clients with different interests, those who come for the sports, the great variety of golf, polo, water sports and those in contact with nature, also couples and families who come to enjoy their holidays, all come to relax and take advantage of the good weather we have.
6. It used to be a NH…improvements?
We have updated the gastronomic offer and prepared changes in different parts of the hotel to give it the more holiday atmosphere that this hotel needed, we continue working to improve the facilities and services we offer.
7. How has the tourist season started, after the state of alarm?
We have very good prospects, the clients were waiting for us to open and are reacting very well to all the security protocols we have implemented.
8. And in particular, those who book their accommodation in , what do they find?
They find a safe hotel where they can enjoy their stay, where the employees have been trained and the facilities adapted to ensure health security for all.
9. What role does golf play right now in the dynamics of the hotel and its operation?
Golf has a very important role in this hotel as it is surrounded by the best golf courses such as the best in continental Europe where the Ryder Cup was played, it is a sport that is played outdoors and you can enjoy the wonderful landscapes that we have in Sotogrande, so we have many clients who come to have fun with this sport.
10. Do you think that the arrival of the Covid-19 will change us forever?
The good habits that are being acquired, such as hand hygiene, will remain forever and so will someone else, but it will not change our enjoyment of a well-deserved holiday.
11. What is the current tourism trend?
Tourism tends towards complete experiences, stimulating all the senses and connecting with nature and the Sotogrande Holm oak forest is the ideal place to achieve this.
12. It seems that this year national tourism should "save the furniture".
We have very nice destinations to take advantage of the holidays, besides helping the local economy, this hotel has always had a lot of national tourism and this year will be no exception.
13. What difference do you find if you compare today's tourism, beyond health measures, with that of 20 years ago?
Tourism has evolved to be more emotional where experiences are taken into account in all senses, new technologies have facilitated "word of mouth" taking social networks a vital importance in the sector.
14. Any funny anecdotes that can be told in your years of professional experience?
If once a French client came to me personally and I asked him if he needed something and he said yes, I told him where he could change money since he only had French euros?
15. How could you convince me to visit El Encinar de Sotogrande?
It is the best place to relax and enjoy unique experiences, surrounded by nature and beautiful landscapes and with the most attentive staff at your disposal.
Translated with www.DeepL.com/Translator (free version)