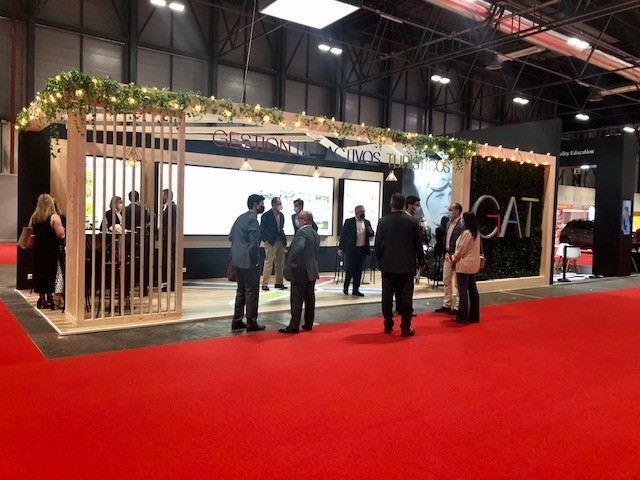 GAT did not miss Fitur 2021
-This year's edition; the most important event in recent years in the wake of the health crisis that has affected and continues to affect the tourism sector so much.
– GAT consolidates its participation while consolidating its position in the market as a leading independently managed hotel group.
GAT has participated in this year's FITUR with intense activity at the stand located in Hall 10. A space that has been visited by colleagues and professionals from the sector, investment groups, owners, suppliers and collaborators, media, friends and all. The GAT team has been attending the meetings and consultations of all of them, sharing the data of the explanatory infographics that could be seen inside.
GAT wanted to support this year's edition of FITUR with its presence, which was particularly significant, under the premise that restoring the sector to its pre-pandemic tourist, economic and employment figures must be a common objective of all those who make up the sector: institutions, associations, hotel groups, specialised media, etc. The fair is the perfect showcase to project Spain as a safe and quality destination.
GAT's triple role as advisor, operator or investor in operations, projects and tourism assets always pursues the objective of sustainable growth, revaluation and repositioning of the resorts managed.
Successful figures
Despite the tough times the sector is going through, GAT has arrived at this year's Fitur with objective figures of success:
EXPANSION AND GROWTH
Ramón Garayar, CEO of GAT comments: "We have increased the number of assets operated under leasing and management formulas without ruling out others such as co-investment in the case of both hotels and tourist flats. In 2020 we have incorporated: Aragón Hills, five hotels in Marina d'Or (5-4 and 3 stars), two hotels in Vila Real and 500 flats. We remain attentive to the market and are focusing on operations in destinations such as the Balearic Islands, Canary Islands, Costa del Sol and Algarve".