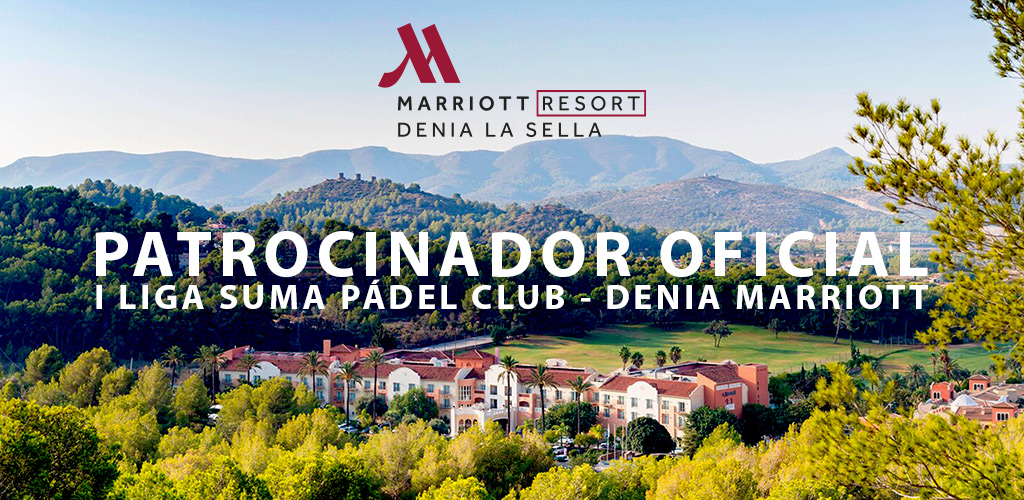 I Liga SUMA Pádel Club – Denia Marriott
Do you want to sign up for a free REGULAR PADDLE LEAGUE and get hooked on your favourite sport for months? Do you want to experience a competition with ranking and prizes in one of the best paddle tennis clubs in Valencia?
SUMA PADEL Alfafar, official World Padel Tour club, and Denia Marriott La Sella Golf Resort & Spa, launch the I SUMA PADEL LEAGUE CLUB-DENIA MARRIOTT:
STARTING DATE: November 2020
CATEGORIES: Male, Female and Mixed.
LEVELS: Open to all levels.
CLASSIFICATIONS: Promotions and relegations every 4/5 games.
PRIZES: For all champions in each category.
DRAWINGS: Consult the exclusive gifts that we will draw among all the players by clicking on the following image.
CONTACT: 610 23 76 58 | padelalfafar@sumafitnessclub.com
REGISTRATION: Free for all players starting in November. During the League only the courts will be paid for.
SUMA MAKES IT EASY: If you don't have a partner we can find one for you, contact us. The schedules of the games will be flexible.
NORMATIVE: Consult the Regulations of the league here.
FIND THE CLUB: Calle Manuel Baixauli Andrés, s/n 46910 Alfafar (Valencia).
The Hotel Denia Marriott La Sella Golf Resort & Spa managed by the company GAT, Gestión de Activos Turísticos, could not miss this appointment with the sport, collaborating in its organization and SUMA to achieve a common goal: the promotion of physical activity and sport.
Located in a popular destination such as Denia, and surrounded by a landscape where the protagonists are the natural spaces of the Montgó Natural Park, the Marriott Hotel is a privileged place for sports lovers. From this summer, it has an exclusive bike centre of more than 100m2 at the service of cyclists, both amateurs and professionals, who want to take advantage of the benefits of a mild climate practically all year round and a varied network of routes suitable for all levels. These same advantages, privileged surroundings and favourable weather conditions are determining factors for golfers who make the hotel their main accommodation as it is built right next to the golf course. Breakfasts with views from the terrace to the holes of the course or to the profile of the Montgó and a complementary cultural, gastronomic and wellness offer to cover all the needs and tastes of those who are used to practising sport.
This year, in addition, the I SUMA Paddle Club League-Denia Marriott "has our commitment and involvement for the organization of the sports event". We are very proud to be part of this project to promote a sport like paddle tennis that is gaining more and more followers and we are sure that initiatives and collaborations of this type generate a great positive impact on society and focus on the important values that we share in business and sport: effort, perseverance and teamwork".
This League we want you to give it your all on the courts.
We will be in charge of giving you a well-deserved 5-star break.
Play at SUMA. Rest in Denia Marriott.