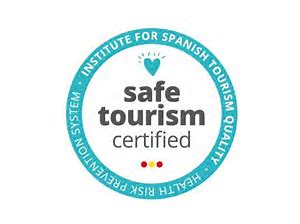 GAT, Management of Tourist Assets, committed and involved with Safety and Health #SafeTourism
These weeks prior to our next openings, have served us to work hard on the implementation and adoption of any measures that will contribute to making our customers' stay the best experience in every way. There is nothing better to face the challenge than to take on the challenge with a good travel companion like Azimut, a company with extensive knowledge and experience in safety matters developed under the premises of the Institute for Spanish Tourist Quality (ICTE) for the achievement of the Safe Tourism seal.
The success in the reactivation of the tourist activity in our country and at the moment, goes through the iron commitment of the hotel management companies, as it is the case of GAT, with the fulfillment of the protocols that guarantee the observance of the norms of security and hygiene of our establishments and resorts. A commitment that goes beyond the norm and that we understand extended as part of the experience of the client that will stay in our hotels and apartments.
After the audit processes of the action plan scheduled for each of our establishments, the qualification and certification with the obtaining of the seal that accredits the result, we feel stronger and why not say it, competitive within a market that increasingly values issues as important as welfare, quality of life and health, thinking about our customers and thinking about the training and information of our team and staff, our main value and key element of our management to become all partners for the monitoring and care of all our customers. We are sure and proud to continue the path of excellence in this new stage and grateful to Azimut for their contributions and help.